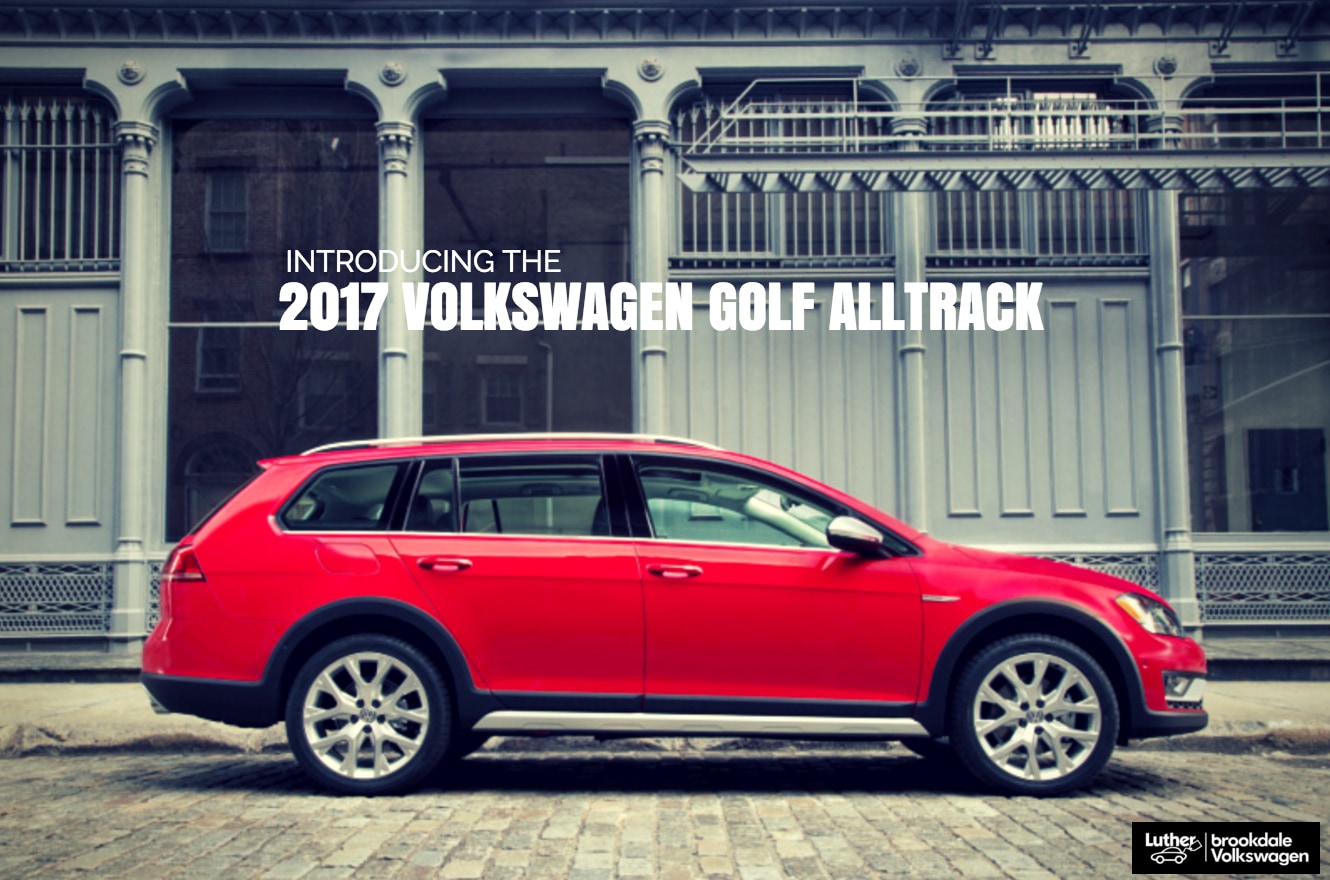 Coming soon! The 2017 Volkswagen Golf Alltrack will be available as soon as this fall.
---
Find the latest Golf models at Luther Brookdale Volkswagen dealership near Coon Rapids, MN. Browse our online inventory. >> Ready for a test drive? Click here for directions to our Volkswagen dealership.
What is important about the 2017 VW Golf Alltrack?
Volkswagen designed the 2017 Golf Alltrack in response to feedback from consumers asking for a SportWagen designed for an active lifestyle.
Here are a few additions that separate the Alltrack from the popular Golf Sportwagen model.
4MOTION®: One of the more important additions to the 2017 Golf Alltrack is Volkswagen's All-Wheel Drive technology, 4MOTION®. This technology monitors terrain and each tire to optimize fuel-efficiency and traction.
Blog: AWD vs. 4WD
Driving down the highway, for example, 4MOTION® would only power the front wheels of the 2017 Golf Alltrack. As soon as rough terrain is detected, or a wheel slips, 4MOTION® activates All-Wheel Drive and applies torque to the right wheels.
4MOTION® uses a new Haldex-5 coupling that is activated by an electro-hydraulic oil pump.
Rugged Off-Road Look: The 2017 Golf Alltrack has exterior style features to compliment it's active lifestyle capabilities. This look includes unique bumpers, new front fascia design with foglights and a honeycomb grille, silver exterior detailing, matte mirror caps and diffusor and more.
For off-road conditions, the 2017 Golf Alltrack has nearly an extra inch of ground clearance, in comparison to the Golf Sportwagen and wheel well and side stills for protection.
Off-Road Mode: Use the Drive Mode Selector to choose Off-Road Mode before you head off-road. This mode activates hill descent control and optimizes traction control. It will also display a compass, steering angle and altitude information on the HMI.
Cargo Volume: Like the Golf SportWagen, the 2017 Golf Alltrack has the interior and cargo space of a compact SUV without loosing the sportier driving experience.
With the rear seats upright the 2017 Golf Alltrack has 30.4 cubic feet of trunk space.

When the rear seats are conveniently folded down, the 2017 Golf Alltrack has 66.5 cubic feet of trunk space.
---
Luther Brookdale Volkswagen dealership proudly serves Coon Rapids, MN, Brooklyn Center, Brooklyn Park, Anoka, Minneapolis, St. Paul, Blaine, St. Michael, Albertville, Elk River, New Hope and the surrounding areas.